At Rapat Corporation, our only business is moving bulk products. We design each conveyor to meet the specific needs of the application. We don't force off-the-shelf products into unique applications. It is this desire to make each component fit into each situation that translates to a high quality finished product.
Engineered Systems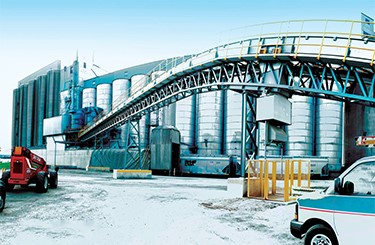 Rapat offers a full line of material handling equipment, including: structural steel trussed, structural steel channel, and enclosed frame belt conveyors, bucket elevators, corrugated sidewall belt conveyors, chain conveyors, and distributors. These individual pieces of equipment can be customized and integrated into a material handling system with all of the necessary structural steel support bents, towers, service platforms, stairs, ladders, and interconnecting chute work required for your specific application.
Frac Sand
Lime and Cement
Mining and Minerals
Energy Generation
Fertilizer and Ag Products
Building Materials
Custom Design
Standard Products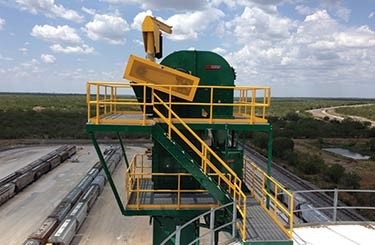 Customized or one-of-a-kind pieces of equipment are often required for specialized bulk material handling application. No two individual installations or uses for a particular product are exactly the same. Rapat Corporation will design and build the exact equipment you need to get the job done right.
Series-TCTR Trussed Frame Belt Conveyors
Series-CTR Channel Frame Belt Conveyors
Series-L Bucket Elevators
Series-FLX
Series-ECTR Enclosed Belt Conveyors
Series-ETR Enclosed Belt Conveyors
Series-RR Enclosed Belt Conveyors
Series-RV Rotary Valve Distributors
Series-D Drag Conveyors
Series-SF Swing-Flo Distributors
Series-RF
Series-SCR Belt Conveyors
Series-C Belt Conveyors
Series-F Belt Conveyors
Series-CU Car Unloaders
Series-HDB Flat Bagging Conveyors
Series-HDV V-Trough Bagging Conveyors